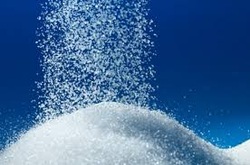 My husband was surfing the web today and came across an article from natural news on a sugar substitute called xylitol. He forwarded it to me asking my thoughts on it. Now normally I love the natural news website but as sometimes happen I feel they are not giving you all the information.
Here's a link to the article that discusses xylitol being a safe alternative to sugar.
http://www.naturalnews.com/042855_xylitol_safe_alternatives_sugar_substitute.html#
What is Xylitol?
Xylitol is a sugar alcohol that is extracted from the bark of birch trees and also corn. Well first red flag here is corn. Corn is what I consider as one of the Super Evil Foods. Corn does not digest in your system it holds no nutritional value, and majority of the corn produced in the US is from a GMO (genetically modified) seed. That was just my first red flag.
Here is my second: in 2008
Natural News
produced an article that stated
"
Xylitol is a processed sugar. After being hydrogenated and having toxic chemicals
added to xylan from corn or other plant material, and then removed, you get xylitol."
It is a processed sugar that is made produced using s
ulfuric acid, calcium oxide, phosphoric acid and active charcoal. Nothing in that sentence screams out natural sugar to me. If something is made with man made chemicals to produce a product it no longer is a "natural" product.
Xylitol is known to have adverse effect on the body's digestive tract causing severe cramping, and diarrhea. A product like this used for an extensive period of time can completely change your gut flora and when your digestion suffers, the rest of your body will quickly begin showing symptoms of illness as well.
What would I recommend?
I would recommend regular sugar in the raw. Sugar in the raw is healthy then the refined sugar and will have less negative effects on your body than the bleached white powder you're used to seeing. Great alternatives though are stevia, agave, dates, honey, and coconut sugar. These are true natural alternatives to sugar to curb that sweet craving. I personally use raw sugar, stevia, agave, and honey in my home when I'm adding sweetener or even cooking with it.