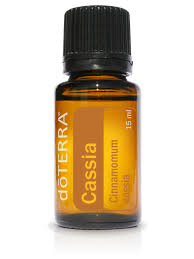 I have loved using my doTERRA essential oils over the past few months for myself and my family and with my patients. These oils are so powerful and beneficial to our health it's such a great tool to have in your own home. Recently I've come to love the oil Cassia, and this month Cassia Oil is being offered at 10% off.
Cassia is a close relative of cinnamon and it noted for its wonderful fragrance. Mentioned in the Old Testament, cassia has literally been used for thousands of years both for its fragrance and calming properties.
Cassia Properties: antiviral, antifungal, and antibacterial.
It has been known to help with colds, diarrhea, nausea, infections, the common cold, gas (flatulence), and kidney complaints, along with benefiting emotional health and calming anxiety.
A 2009 report in
Pennington Nutrition Series
found that the use of cassia bark oil is beneficial in treating type 2 diabetes. Cassia cinnamon extracts had significant anti-diabetic effects in both animal trials and in human trials using people with type 2 diabetes. The research found that concentrated blood glucose levels were significantly decreased, and that their levels of total cholesterol were significantly lower.
This wonderful oil has so many benefits to be used aromatically, topically, and internally for our health. To purchase a bottle of cassia oil during the month of December for 10% off visit
mydoterra.com/ascentialcu
. Or contact me today to set-up an appointment to learn more about how this oil or other essential oils may be able to benefit you or your families health.
Veronica@AscentialAcupuncture.com
614.516.4164