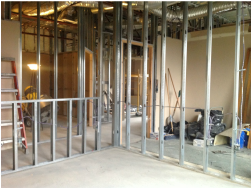 I have been truly blessed since opening my practice October 1, 2011. My practice has grown significantly and I have been able to help many individuals improve upon their health. I love what I do and I love and appreciate all of my patients. Going to work is a joy for me and I couldn't be happier.
Last summer I was approached by my friend, colleague, and office mate Julie Jorat of La Luna Wellness, about taking over a new space across the hall from where I was currently treating patients. I was thrilled with the idea as I was growing faster than I had ever anticipated and greatly needed more treatment rooms on a constant basis. We began thinking we would be able to start construction of the new space October 15, 2012. However, as many of you may know that date kept getting pushed back. It wasn't until January 2, 2013 that construction officially began.

Now it is June and I have been treating in the new space for the past couple of months. Although there is still much to be finished before we have an open house to show off the new space, we are enjoying the process. Julie and I are still working on some minor details decorating the waiting area and hallway. It has been a very exciting few months for me and I owe it all to my patients. It is because of your trust and support in me as a practitioner that the move was made possible.

I will do a few blog posts from now until the finishing touches have been made to show our progress.
Click below to see some of the pictures.