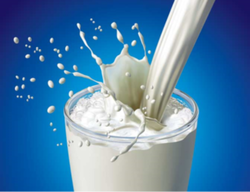 We have all been told to drink our milk for strong healthy bones, but do you know if the milk your drinking has the vitamins essential for bone health? I'm going to talk share some things that I'm sure you aren't even aware of that could be harming your overall health.
Many "low fat" "skim" milks no longer contain Vitamin D, the process to make them strips them of this and many other essential nutrients.
SKIM MILK:
Skim milk is stripped of vitamins D, E, K and denatured. It is a by-product that was once solely fed to hogs. Dry milk is usually dried at high temperatures which reduces or destroys the vitamin, decreases the fatty acids and makes minerals indigestible. The nutritional value of skim milk is altered by synthetic or fish oil vitamins commonly contaminated by salmonella. Canned evaporated milk contains non-nutritional corn syrup and / or white sugar, SYNTHETIC VITAMIN, CALCIUM CHLORIDE, DISODIUM PHOSPHATE, and SODIUM CITRATE which are all dangerous to your health.
Skim, dry, evaporated and imitation milk are unsafe for children, pregnant women and breastfeeding women, the poor and the elderly.
Petroleum wax in milk (and other waxed containers) has cancer causing hydrocarbons in them which the FDA acknowledges but allows their use.
It is known that in ancient Africa fig juice was used as a substitute for human milk. Figs are similar in chemical composition to human milk. It can double the size of an infant in six months. When combined with dates, figs were used to sustain the life of many desert African tribes. Dates were later used by the romans as food for training warriors and building muscles.
So hopefully you'll think twice the next time you're in the grocery store going to reach for that gallon of "skim milk" - at least I sure hope you do! If you must using 2% or whole milk is your best option. Other great alternatives are Coconut and Almond milk, just make sure there is no soy in the ingredient list!