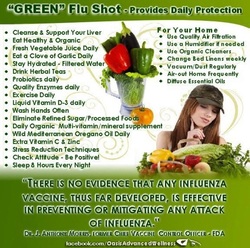 Should I get a flu shot? This is something I hear often from patients in my practice, especially this time of year. My answer is along these lines: No I don't think it is necessary but if you feel you must get it then go ahead.
There is no proof that the flu vaccine makes any difference in one getting sick. It is also very unlikely that the vaccine you get contains the same virus you are exposed to if you do get sick. Also this vaccine contains toxic levels of mercury and other known carcinogens and neurotoxins like formaldehyde and aluminum.
I personally have never had a flu shot - I have also never suffered from the flu. How is this possible you ask? It's more about doing the things to help prevent myself from getting sick such as many of the points listed in the Green Flu Shot image. I believe in being more proactive to prevent illness, but if you do get sick treat
Here are some key things to do this season to help prevent you and your family from coming down with the flu.
• Sleep 7-8 hours each night
• Eat garlic daily (it's an amazing anti-viral agent)
• Take at least 1,000 mg of vitamin C daily
• Get 1,000-2,000 iu of Vitamin D daily
• Eat healthy, wholesome foods (avoid processed and sugar-laden foods)
• Wash your hands regularly
• Exercise for at least 30 minutes 4x a week.