If you have ever been woken up in the middle of the night, or had to interrupt events in your daily life from menstrual cramps - then I have some help for you. If you're dealing with cramping each month there is probably a deeper reason for that which acupuncture can help to eliminate and make that time of the month a little easier. However, I'm going to give you a couple of acupressure points to use at home when you feel that pain coming on.

My two favorite points for cramp relief are Stomach 36 (St 36) and Spleen 6 (Sp 6)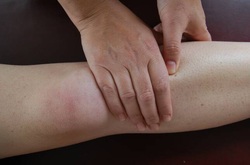 Stomach 36
St36 is one of the most important and commonly used acupuncture points. When trying to reduce menstrual cramps you should first examine the area of the point. If the muscles here are tight then deeper, stronger pressing will be best. However, if the muscle is weak a gentler rubbing is better. Be careful as this point is sensitive and may bruise. St36 is also helpful in promoting general health, improving digestion, stomachaches, and reducing fatigue.

Locate St36 on the front of the leg, one hand width (four fingers) below the kneecap. ST 36 is level with the bottom of the tibial tuberosity, one thumb width towards the outside of the leg.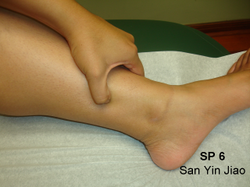 Spleen 6
Sp6 is a very important point to reduce menstrual cramps, regulate the menstrual cycle, treat pain, and improve energy. This is because the point strongly moves the qi and blood. It also helps to produce qi. So stimulating this point will help improve digestion, energy, and reduce pain and can be used to prevent or treat acute cramps.

Sp 6 is located on the inside of your calf. The point is on the center line of your leg. Place your hand on the top of the inner ankle bone. The point is the same distance as the width of you 4 fingers put together.

You can rub these points daily as well to help prevent cramping - but please do no use these points if you are pregnant.