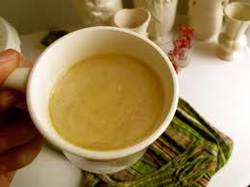 In Traditional Chinese Medicine (TCM) the kidneys are seen as the "root of life" The Kidney energy-organ system controls sexual and reproductive functions of the body. When we are born we inherit a prenatal essence from our parents - this is the base of our life force which is stored in the Kidney meridian. As we age we can build this essence up, however, if it is weak it increases the rate of aging, weakens our overall constitution, and diminished our ability to reproduce. One of the ways to build this essence is by consuming homemade bone broth. Now it is rich in nutrients vital for those women trying to conceive but everyone can benefit from adding bone broth as a regular meal staple.
The inside of the bone contains marrow which in TCM theory is related to kidney essence - that stuff we need to continue building! When you cook bone broth the important fats, proteins, calcium, magnesium, potassium and other vital nutrients are going to be seeped into the broth creating a nice bowl rich with kidney essence.
So how do you cook bone broth? Go to your local meat market or health food store and you can get meat still on the bone to use or you can often times just get left over bones from your meat of choice. Throw the bones in a crock-pot, cover with water, add vinegar to the water, and let sit for 12-24 hrs. The longer it cooks the more nutrients you'll have in your broth. Then if you would like toss in some potatoes, carrots, celery. etc and make it a fun nutrient rich filled meal.
Now that's what I call soup for the soul!
Check out these posts about the benefits of bone broth and recipe tips:
Acupuncture Today
- "Using Homemade Bone Broth for the Treatment of Fertility"
"
Broth Is Beautiful
" by Sally Fallon