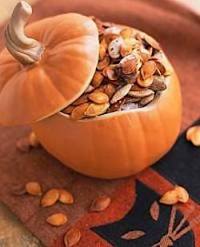 Autumn - that wonderful time of year when ghouls and goblins are out and jack-o-lanterns line every front step. If you're anything like me then you love anything with the word pumpkin in it - pie, cookie, ice cream, cake, bar, roll, etc. So before you throw away those poor sagging pumpkins off your porch this year think about how you and your family may benefit from them instead!
Pumpkins are 90% water and very rich in antioxidant vitamins A, C, K, E, beta-carotene, magnesium, potassium, zinc,and iron.

Pumpkins are also good in the intestines because it cleanses the body from intestinal worms. Powdered pumpkin with water can be used to aid urinary tract infection and menstrual pain.
The beta-carotene in pumpkins is what gives it that rich orange color it's so famous for. Research shows that people who eat a diet rich in beta carotene are less likely to develop cancers than those who fail to include beta carotene rich foods in their diet. Beta-carotene boosts immunity, protects the skin, prevents
eye
diseases, lessens asthma attacks, prevents depression, lower high blood pressure, aids blood circulation, and prevents heart disease.
Potassium - pumpkins are loaded with large amounts of potassium and studies show that a diet rich in potassium lowers the risk of hypertension. Other potassium rich foods include bananas, raisins, broccoli, avocado, and pomegranates just to name a few.
Fiber - pumpkins are high in fiber and studies show that diets rich in fiber may prevent cancer, heart disease, and other serious ailments.
That little green seed inside the pumpkin has been linked to a healthy prostate. Why? Because the compound of the pumpkin seed contains phytosterols which may be responsible for shrinking the prostate. Pumpkin seeds are also helpful with high cholesterol and reducing arthritis and inflammation. Eating pumpkin seeds on a daily basis is a good dietary choice because it benefits our whole body. Pumpkins can also eliminate dysentery, eczema and edema
Skin Benefits
Pumpkins contain lots of anti-oxidant vitamins A and C, as well as zinc and alpha-hydroxy-acids which helps to reduce the signs of aging. Both consuming pumpkin in your diet and using pumpkin peels, or other skin products helps reduce blemishes and acne and increase collagen.