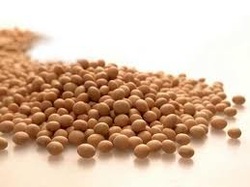 There has been a lot of back and forth over the past decade about whether or not soy is actually a health food. In the past few years society has been pushing for you to eat more soy because it's "healthy" for you. However, all that soy you are consuming may actually be doing you more harm than good.

For the past couple of weeks this topic has sparked my interest. It all began while I was on vacation in Mexico last week reading "Chill Out & Get Healthy" by Aimee Rapp an acupuncturist in New York (Great book by the way and I highly recommend it). Now while I'm reading her book I'm thinking wow ok she's really reaffirming all of these things for me again, but I now feel like I need to do more not just for me but for my patients. So I'm sure you can guess that a portion of her book talks about the dangers of soy and as Aimee puts it "Soy Sucks" - I love her style! This got me thinking ok it's time to do some background research and get to the bottom of this. So I'm sure this will be the first of many posts I will have about soy and other foodstuffs that are harming our bodies.

I'm a huge advocate of MODERATION and soy should be eaten in moderation because it contains phytoestrogens, which act like estrogen in your body—and too much estrogen can cause some breast cancers to grow. In fact, studies show that high-dose soy supplements might up breast cancer risks. "To be safe, women with a personal or family history of breast cancer shouldn't eat soy or take supplements," says Katherine Lee, MD, a surgeon at the Cleveland Clinic's Breast Center. Soy may also interfere with the functioning of the thyroid gland, which controls how efficiently you burn energy.

Safest ways to enjoy soy
It's OK to eat soy once a day in natural forms like edamame, and the foods below.
These are fermented soy foods, which is the only way soy products should be consumed.
Soy products on the whole are processed and toxic. Eating soy can give you osteoporosis, horrible gas, zero energy and hypothyroidism. It's also one of the most common food allergens. What vegan soy supporters have neglected to tell you is that most soy products on the market are made from overly processed and more than likely genetically modified soybeans that have the nutritional equivalent of plastic! When you consume soy it makes it harder for you to digest protein.
Now to me that's pretty scary stuff. It's important to be checking your food labels and limit the amount of soy that you are consuming. If you start looking around your kitchen I bet you'll be amazed at just how much soy products are in your foods.
Of course I always promote MODERATION to all of my patients. It is impossible to completely rid yourself of something but if you can limit it so that you only have it 20% of the time out of a 7 day week, the health benefits you reap will be exponential. You're going to start feeling better, losing weight and keeping it off, and create a healthier, happier you!

Check out this video from Dr. Joseph Mercola as he reviews health problems related to soy and why you should avoid soy products.

Be aware of your food labels and avoid these common names for processed soy derivatives:
Hydrolyzed Soy Protein, Hydrolyzed Vegetable Protein, Soy Flour, Soy Oil (also look for Vegetable Oil – most is actually soy oil), Soy Lecithin (GMO especially), Soy Protein Isolates (SPI)
Textured Vegetable Protein (TVP)